Stunt highlights the Halloween horror show of mismanagement of UK fisheries
Press Release Date: October 31, 2023
Location: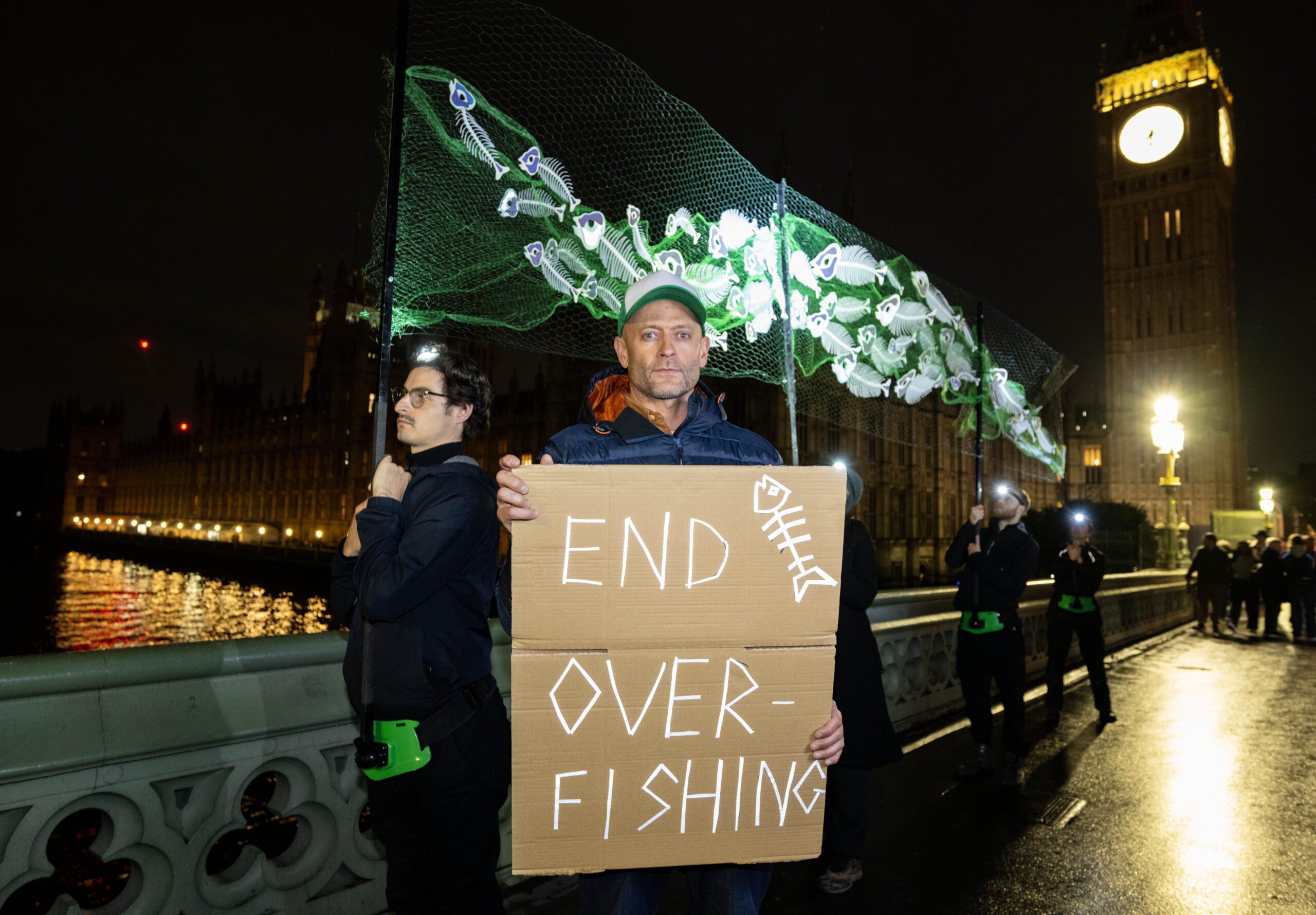 Ocean UK's Executive Director Hugo Tagholm outside parliament to call on the government to end overfishing. Picture credit: Doug Peters/PA Wire.
UK seas are ghosts of their former selves, with over a third of British fish stocks overfished and a quarter depleted to a 'critical' state, research from Oceana UK found. Protesting outside the Department for Environment Food and Rural Affairs (Defra) this Halloween with a visual display of skeletal fish, the NGO said that this alarming situation is being driven by the government setting catch limits too high – exceeding scientific advice.
As Defra begins the process to set and negotiate catch limits for the coming year, Oceana has warned that continued over-exploitation of UK waters will risk the collapse of these fish populations and the ocean wildlife that depend on them, along with coastal communities and the fishing industry itself.
Hugo Tagholm, Director of Oceana UK, said: "Ignoring the science and pushing ahead with the rampant exploitation of our seas is no good for anyone. If Defra doesn't change course, fishing communities and workers will suffer just as ocean wildlife does. We have already seen the damaging impacts of these declines, both on land and at sea. But make the right choice now and this could be a huge opportunity for the UK: by following the science our incredible seas and blue economy could thrive once again."
Every year, the International Council for the Exploration of the Sea (ICES) provides the best available scientific advice for setting sustainable catch limits for the majority of UK fish stocks. Adhering to these limits would allow fish populations and other ocean wildlife to flourish as well as safeguard fishers' livelihoods for the future.
Yet, in 2023, 57% of the total allowable catches for the UK's staple fish stocks were set higher than advised by ICES, according to the government's own advisers, the Centre for Environment, Fisheries and Aquaculture Science.
Oceana UK's own report, examining the majority of UK commercial fish stocks, revealed that over a third are being overfished (34%) and only 45% are sustainably fished: the rest could not be assessed because of lack of data, leaving them at greater risk of overexploitation.
The UK fishing industry relies heavily on 10 key stocks that are landed by British boats in the greatest volumes. Of these, half are either being overfished, like mackerel, or have reached a critically low population size, like North Sea cod, Oceana UK found.
The government must urgently commit to setting catch quotas in line with ICES scientific advice at sustainable limits, Oceana says.
ENDS
Notes to editors
Full set of images on request
Read Oceana UK's report, Taking Stock